Half Hill Farm
is a small seven acre
USDA Certified Organic
farm (
view certificate – PDF
) located in Woodbury, Tennessee. We are literally half a hill 12 miles East of Murfreesboro off Highway 70. We got our start bringing small bounties of certified organic veggies from our farm's barn yard garden to our local farmers market. Now we have two stores and a manufacturing kitchen where we make some awesome stuff.
Wellness Emporium
of Woodbury) is located at
110 W High Street, Woodbury, TN 37190
and is open seven days a week Tuesday - Friday 10 am - 6 pm and Saturday - Monday 10 am - 4 pm. Our second store is the
Wellness Emporium
of Bell Buckle located at
13 Webb Rd E Bell Buckle, TN 37020
and is also open seven days a week Monday - Saturday 10-5 and Sunday 10-2.
Half Hill Farm is dedicated to sustainable farm practices that reflect our deep commitment to being good stewards of our planet and our general well being.
We put people first in everything we do, and that starts with our own team who dedicates themselves to serving you the very best quality product and experience.
Christian Grantham - Owner
Vince Oropesa - Owner
Scot Smotherman - Owner
Trevor Vandiver - Production
Keven Smith - Production, Fulfillment
Shawntaye Reagan - Wellness Advocate
Keslie Smith - Wellness Advocate (Woodbury)
CatieBeth Thomas - Wellness Advocate (Bell Buckle)
WHAT WE DO:
Half Hill Farm ferments, bottles and kegs seasonally flavored kombucha, kefir and shrubs, makes apple cider vinegar tonics, mushroom extracts, full spectrum extract CBD hemp oil (we are a state licensed industrial hemp processor), propolis extract, bitters and other wellness products. Our farm grows USDA certified organic apples, mushrooms and a variety of herbs and vegetables we use in making our products. Due to our farm's size we mostly work with USDA certified organic partners to source organic ingredients. Our products are available through our online store or in our retail stores: the Wellness Emporium of Woodbury at 110 W High Street Woodbury, TN 37190 or the Wellness Emporium of Bell Buckle at 13 Webb Rd E Bell Buckle, TN 37020.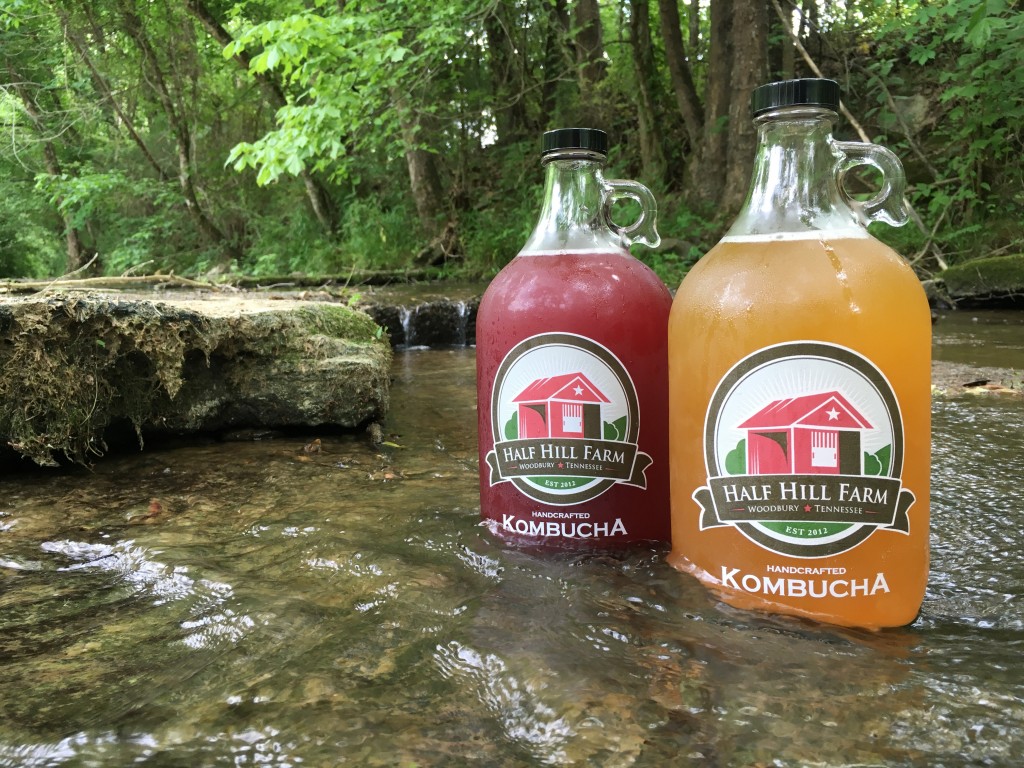 Half Hill Farm's kombucha and kefir is made with quality ingredients at our facility in Woodbury, TN. Kombucha's refreshing live-culture, fermented, carbonated beverages take a sweet Southern staple (sweet tea) and turns it into a healthy probiotic drink. Our kombucha comes in seasonal and permanent flavors, including Apple Ginger, Blueberry Ginger, Tart Cherry, Ginger Lemonade, Mulled Pear, Blood Orange, Honeysuckle, Blackberry and Coffee. Half Hill Farm Kombucha and kefir is available on tap at the Wellness Emporium in 64 oz. refillable growlers, 16.9 oz bottles or 16 oz cups. We also make our kombucha available to commercial clients by the 1/2 barrel keg (15 gallons).
Contact Scot Smotherman
for more details. Check out our
Kombucha Starter Kits
and
SCOBYs
available for home brewers who want to make their own at home!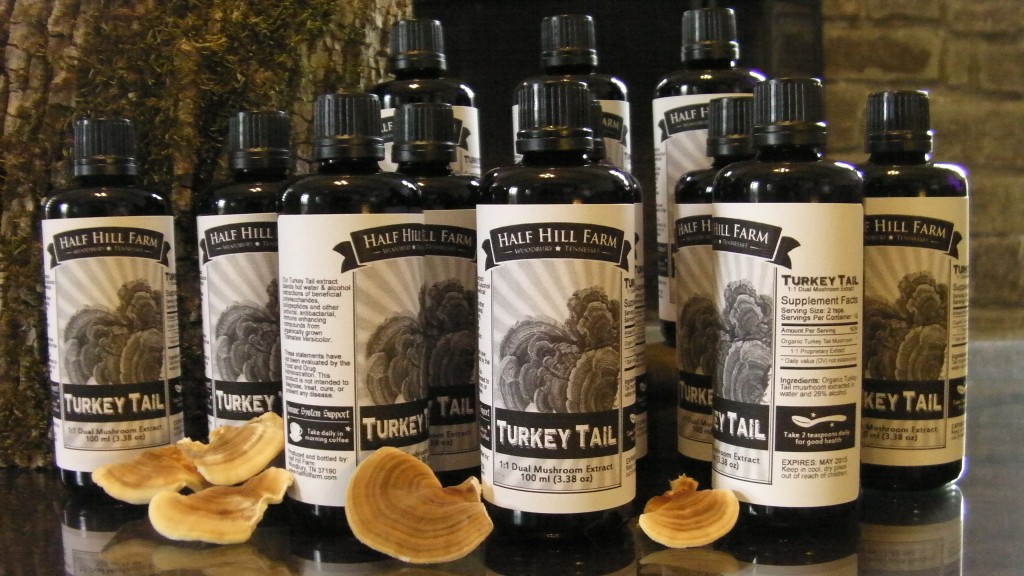 Mushrooms: Half Hill Farm makes quality mushroom dual extracts of organic and wild-crafted Turkey Tail, Red Reishi, Chaga, Lion's Mane and Cordyceps mushrooms. We started making these healing extracts for a family member who became ill and needed something better than we could find on the market and that matched the extract process and formulations of studies we read. We now ship our mushroom extracts every day all over the United States.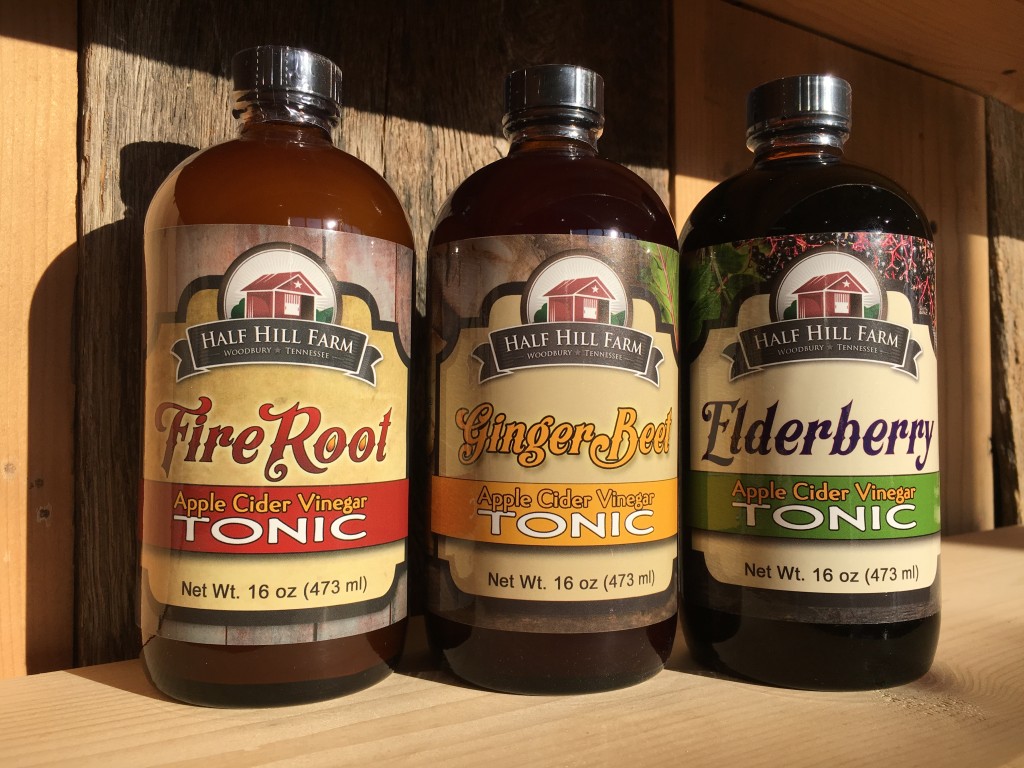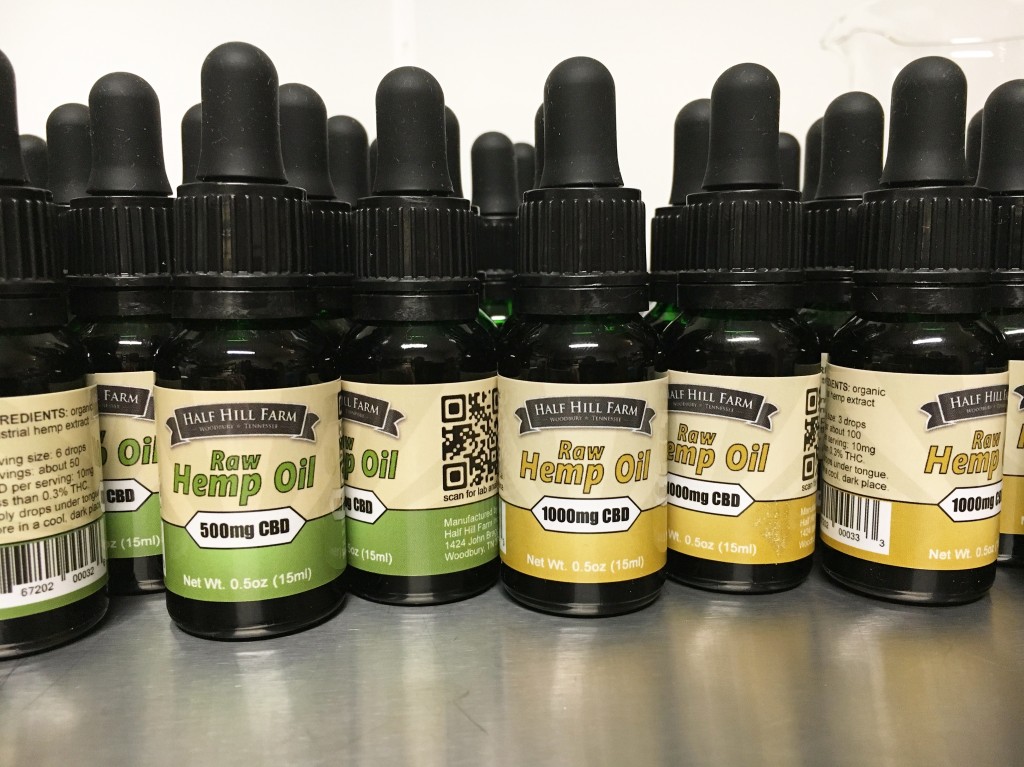 Half Hill Farm helps farmers access state and private resources to get licensed and set up with growing industrial hemp. Our farm is also setting up super critical CO2 extraction in our FDA registered manufacturing facility in Woodbury to process quality hemp grown in Tennessee. We also use organically grown domestic industrial hemp from Kentucky that goes through CO2 extraction and then is formulated and blended in Woodbury. We do not retail private labeled product. Our CBD hemp oil products contain less than 0.3% THC. Each batch is tested by third-party independent labs to ensure quality and compliance.
OUR MUSHROOM LOGS: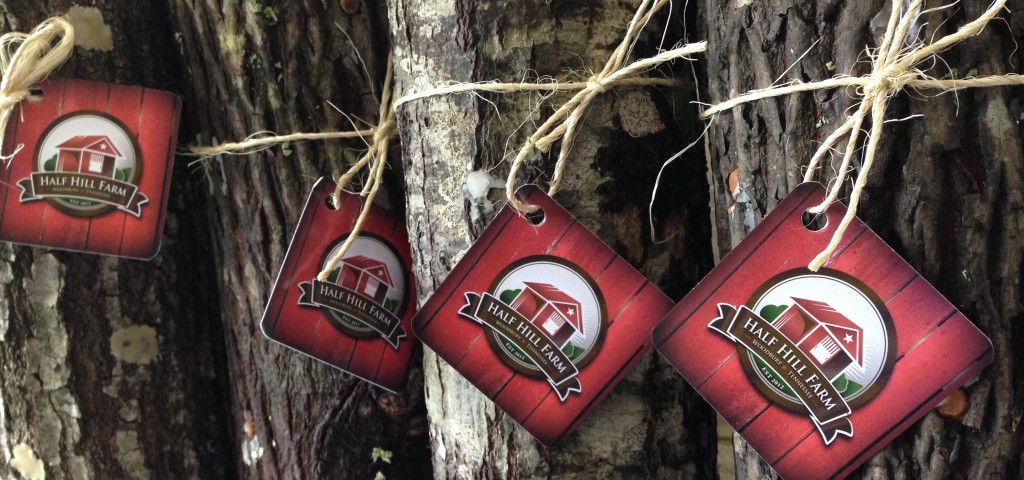 Grow your own Shiitake mushrooms at home with our inoculated mushroom logs! You can purchase our mushroom logs at our farm store in Woodbury, TN. Half Hill Farm's one foot mushroom logs start at $20! Larger logs and stumps are available as well.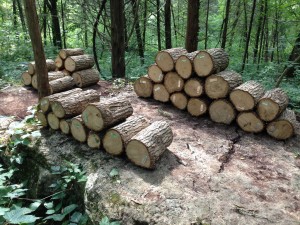 Each 1 foot log is locally harvested hardwood (oak, hickory, elm, maple) and can produce roughly 90% of its dry weight in mushrooms over a 3-5 year period. Your log comes inoculated with Shiitake (Lentinula edodes).
By growing mushrooms on our oak logs, you are also helping to address record setting CO2 emissions (
now at 400+ PPM
) by diverting decades of sequestered carbon from being released back into the atmosphere as fire wood. Each log instead keeps the sequestered carbon in a process that creates food and helps heal the planet.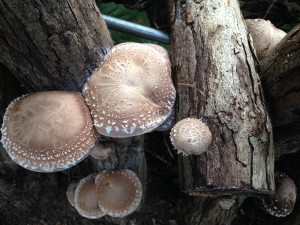 Each mushroom log should be within months of producing their first flush and come with supplemental instruction on growing mushroom outdoors.
Mushroom logs picked up at the farm weigh between 15-75 lbs (online orders are 7-15 lbs). No special equipment or tools are necessary. All you just need is